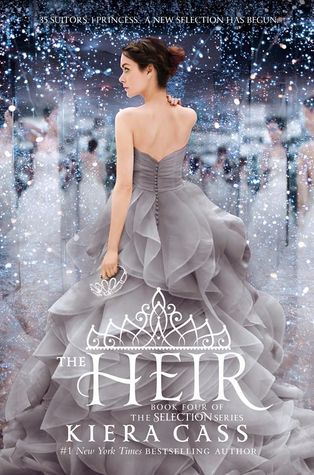 Date Published: May 5, 2015
Dates Read: 6/22/15-6/27/15
Rating: 3.5 stars
Goodreads Synopsis: The synopsis for this book totally spoils the entire first three books in the Selection series so I wont be posting it on here. If you would like to know what this book is about here is the link to the books page —> The Heir.
This is the fourth book in the Selection series.
My Thoughts: First off, these book covers are gorgeous! I would love to have the dress on this cover! I found the main girl Eadlyn to be rather annoying through the first two thirds of this book but I didn't mind her in the last bit of it. I do like that we get to see characters from the first three books that played big roles in them in this book as well. I do have a few guys from her group of Selected that I like and would like to see make it to end up with her but we will have to see how things go in the final book. I will most definitely be reading the last book with the way things ended in this one and I am looking forward to seeing how things wrap up in this series.