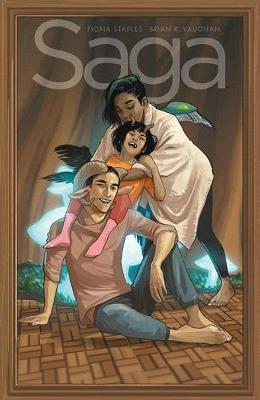 Date Published: October 2, 2018
Published By: Image Comics
Pages: 160
Edition Read: paperback
Date Read: 10/3/2018
Rating: 
Synopsis: The multiple Eisner Award-winning series returns with a spacefaring adventure about fake news and genuine terror. Get ready for the most shocking, most impactful SAGA storyline yet.
Collects SAGA #49-54
My Thoughts: Holy Crap!!! This was such a good installment in this series. It ripped my heart out but I loved it anyway.  I can't believe we have to wait a year or more to get the next volume of this due to the creators taking a year long hiatus. That ending was insane. Highly Recommend this graphic novel series if you haven't read it yet, which you should! It is very mature in content though so be aware of that going in to it.