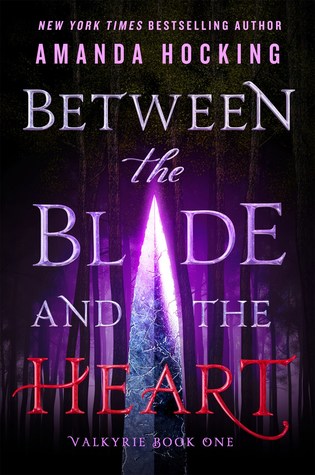 Date Published: January 2, 2018
Published By: Wednesday Books
Pages: 319
Edition Read: paperback
Dates Read: 2/15/18-3/4/18
Rating:  
Goodreads Synopsis: Between the Blade and the Heart is the first book in a brilliant new young adult fantasy duology inspired by Norse mythology by New York Times bestselling author Amanda Hocking.
As one of Odin's Valkyries, Malin's greatest responsibility is to slay immortals and return them to the underworld. The balance of the world rests on her ability to carry out orders. But when Malin discovers that her mother spared the life of an immortal who was destined to die, her world is thrown into chaos.
As Malin wrestles with the knowledge that her mother might not be who she thought, she's also thrust into the path of a gorgeous blue-eyed guy named Asher who needs her help slaying the rogue immortal who destroyed his family. Malin, along with her best friend and her ex-girlfriend, must decide where her loyalties lie…and whether helping Asher enact his revenge is worth the risk—to the world and to her heart.
My Thoughts: First of all, my favorite thing from this whole book is that only women can become Valkyries. That's freaking awesome! I really loved Malin as a main character, she was super real and relateable. I feel like the way that she reacted to all the different situations she was in was done in a realistic was. I wasn't the biggest fan of her mother, Marlow, or her ex-girlfriend, Quinn. Asher and Oona, however, I adore. I was also a huge fan of the plot. It was always moving along and it was never dull or boring. I can't wait to see how things end in the final book in this duology. Amanda Hocking is one of my favorite authors so I knew I would love this going in. I highly recommend checking it out!