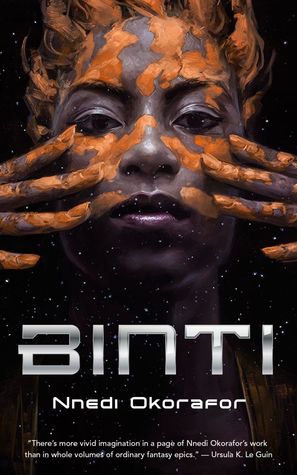 Date Published: September 22, 2015
Published By: Tor
Pages: 96
Edition Read: ebook
Dates Read: 8/16/17
Rating: 
Synopsis: Her name is Binti, and she is the first of the Himba people ever to be offered a place at Oomza University, the finest institution of higher learning in the galaxy. But to accept the offer will mean giving up her place in her family to travel between the stars among strangers who do not share her ways or respect her customs.
Knowledge comes at a cost, one that Binti is willing to pay, but her journey will not be easy. The world she seeks to enter has long warred with the Meduse, an alien race that has become the stuff of nightmares. Oomza University has wronged the Meduse, and Binti's stellar travel will bring her within their deadly reach.
If Binti hopes to survive the legacy of a war not of her making, she will need both the gifts of her people and the wisdom enshrined within the University, itself – but first she has to make it there, alive. 
My Thoughts: I read this for the challenge of reading a Hugo winner/nominee for my reading challenge this year. I had heard a few people talking about it and giving it high praise so I thought I'd give it a chance as well. I liked it for the most part, however, I was confused a lot of the time. I know this is an extremely short novella, less than 100 pages, but there wasn't a ton of information given in terms of certain words or things just not being explained enough for them to make sense. I liked the main character though and the plot line was interesting enough. I do have plans to pick up the next installment in the series but I'm not in a hurry to do so.