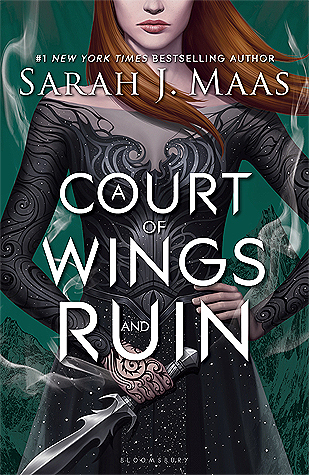 Date Published: May 2, 2017
Published By: Bloomsbury Childrens Books
Pages: 699
Edition Read: ebook & hardcover
Dates Read: 5/2/17-5/6/17
Rating: 
Synopsis: Looming war threatens all Feyre holds dear in the third volume of the #1 New York Times bestselling A Court of Thorns and Roses series. As war bears down upon them all, Feyre must decide who to trust amongst the dazzling and lethal High Lords-and hunt for allies in unexpected places.
In this thrilling third book in the #1 New York Times bestselling series from Sarah J. Maas, the earth will be painted red as mighty armies grapple for power over the one thing that could destroy them all.
My Thoughts: I LOVED this. I was nervous because there was quite a few things that I wanted answers to and things I wanted to see wrapped up in this and thankfully they were all answered/wrapped up. Some people were pointing out that there were some problematic lines that were offending some people, I did spot those lines and see how they could be offensive, however they didn't offend me personally. I loved being back with these characters. I had forgotten just how much I love all of them until I picked this book up. I wish I had done a reread of the first two books before going into this one because I had forgotten a few things and it took me a minute to get my bearings on what was happening and what went down at the end of ACOMAF. Once I remembered though things were great and it was easy to just slip right back into the world and all of it's inner workings. My love for Feyre and Rys is on another level, they are probably my top book relationship. I do think that there was a bit too much sex though. Your literally in the middle of a war, it's not the time to be having sex every chance you get. I liked how much we got to learn about Lucien and Amren in this. We got to learn so much more about their history and what powers they have. We also got to see what Rys shifts into which was great because it was never mentioned in the other books exactly what he becomes. Learning about the other courts and seeing how some of them worked was a great touch to the overall story. Cassian and Nesta were probably my favorite thing in the whole book. Their banter is great. I do wish that a couple of the new relationships that developed in this book had gotten a solid ending or at least a nod to where those relationships ended up. I know we are getting three more books set in this world so maybe those will be covered in one of the future books. I have a lot more that I want to say about this but everything else I want to talk about is super spoilery so if you guys would like to know the rest of my thoughts let me know and I will do a fill spoiler filled discussion post on this book and the entire series because I will be doing a reread of this very soon!