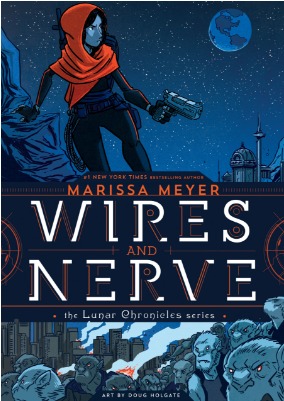 Date Published: January 31, 2017
Published By: Feiwel & Friends
Pages: 240
Edition Read: hardcover
Dates Read: 4/2/17-4/5/17
Rating: 
Synopsis: In her first graphic novel, #1 New York Times and USA Today bestseller Marissa Meyer follows Iko, the beloved android from the Lunar Chronicles, on a dangerous and romantic new adventure — with a little help from Cinder and the Lunar team.
In her first graphic novel, bestselling author Marissa Meyer extends the world of the Lunar Chronicles with a brand-new, action-packed story about Iko, the android with a heart of (mechanized) gold. When rogue packs of wolf-hybrid soldiers threaten the tenuous peace alliance between Earth and Luna, Iko takes it upon herself to hunt down the soldiers' leader. She is soon working with a handsome royal guard who forces her to question everything she knows about love, loyalty, and her own humanity. With appearances by Cinder and the rest of the Rampion crew, this is a must-have for fans of the bestselling series.
My Thoughts: I really loved being back in this world and with these characters. This crew of characters is one of my all time favorites. I will say that I wasn't the biggest fan of the way the characters were depicted by the artist. I had VERY different images in my mind of these characters and it did not match up at all. The story itself was fantastic. Marissa Meyer is an amazing writer and I can't wait to see what the next volume has in store. A warning however, if you haven't yet read the entirety of the Lunar Chronicles series then DO NOT read this because it is spoiler city for everything that goes on in the main four books.