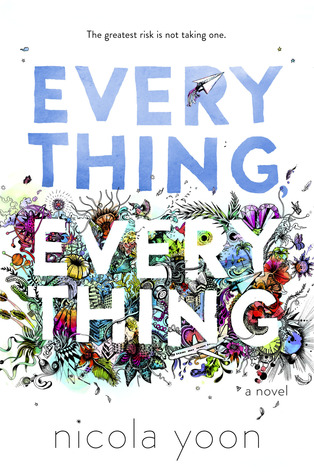 Date Published: September 1, 2015
Published By: Delacorte Books for Young Readers
Pages: 310
Edition Read: paperback
Dates Read: 3/22/17-3/26/17
Rating:  
Synopsis: My disease is as rare as it is famous. Basically, I'm allergic to the world. I don't leave my house, have not left my house in seventeen years. The only people I ever see are my mom and my nurse, Carla.
But then one day, a moving truck arrives next door. I look out my window, and I see him. He's tall, lean and wearing all black—black T-shirt, black jeans, black sneakers, and a black knit cap that covers his hair completely. He catches me looking and stares at me. I stare right back. His name is Olly.
Maybe we can't predict the future, but we can predict some things. For example, I am certainly going to fall in love with Olly. It's almost certainly going to be a disaster.
My Thoughts: This book took the reading world by storm when it came out a few years ago. I started it not long after it came out but wasn't feeling it at the time and put it down. With it becoming a movie this year I decided to give it another go! I ended up really liking this, but I didn't LOVE it like a lot of people did. My favorite thing about the book was the drawings and lists that were throughout the story. I feel like they added something special to the overall feel of the book. In terms of characters, Maddy and Olly were fabulous. I loved them. I also really liked Carla, Maddys nurse! She was great. The story itself was told really well. something gets revealed towards the end that I didn't expect or see coming at all and that was a nice surprise. Things ended well and I really liked Nicola Yoons writing. I will definitely be picking up her other book very soon!