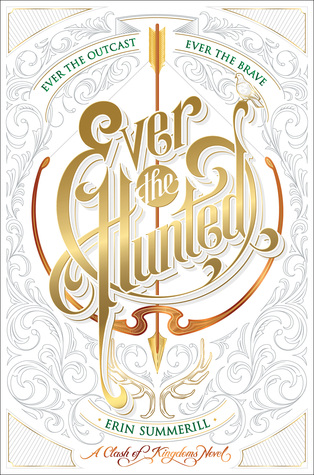 Date Published: December 27, 2016
Published By: Harcourt Childrens Books
Pages: 392
Edition Read: hardcover
Dates Read: 1/28/17-3/1/17
Rating: 
Goodreads Synopsis: Seventeen year-old Britta Flannery is at ease only in the woods with her dagger and bow. She spends her days tracking criminals alongside her father, the legendary bounty hunter for the King of Malam—that is, until her father is murdered. Now outcast and alone and having no rights to her father's land or inheritance, she seeks refuge where she feels most safe: the Ever Woods. When Britta is caught poaching by the royal guard, instead of facing the noose she is offered a deal: her freedom in exchange for her father's killer.
However, it's not so simple.
The alleged killer is none other than Cohen McKay, her father's former apprentice. The only friend she's ever known. The boy she once loved who broke her heart. She must go on a dangerous quest in a world of warring kingdoms, mad kings, and dark magic to find the real killer. But Britta wields more power than she knows. And soon she will learn what has always made her different will make her a daunting and dangerous force.
My Thoughts: First thing, the cover is really pretty and the actually hardback is embossed which is something I love on hardback books. This was one of the books from my anticipated list for 2017. It took me forever to read this book. I got through the first half of it pretty quickly but it seems like that last 150 pages took me about two weeks to get through which is crazy. While for the most part I did enjoy this book there were some things about it that I wasn't a fan of. for the majority of the book I like our main character Britta, but she got on my nerves a bit as well. She acted like a lost puppy dog at times and for all the  claims that she was supposed to be some master tracker that ability seemed to come and go and was not consistent at all. I liked that there wasn't any insta-love in this, the "relationship" was preexisting. I feel like the main twist of the story wasn't much of a twist at all and was a little predictable. I honestly don't know how I feel about Cohen, at times I liked him but I wasn't a fan of how much he underestimated what Britta was capable of. I mean for someone he cares about so much he sure doubted her every move. There were a few troupes in here that I have seen a lot of before but the story itself wasn't bad. I didn't see what happened on the last couple of pages coming though so that has me interested to read the second book to see what is going to come of that and how that's going to change things. Overall, not a bad book but it has it's flaws.