Date Published: September 6, 2016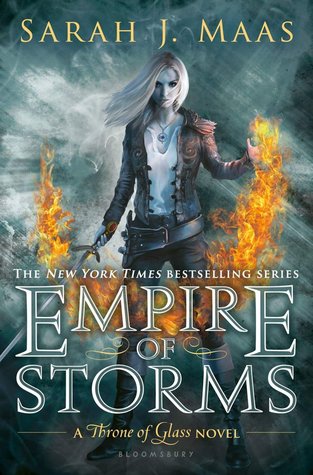 Published By: Bloomsbury USA Childrens
Pages: 701
Edition Read:  Hardcover (B&N Exclusive Edition, Signed)
Dates Read: 10/25/16-1/23/17
Rating: 
Goodreads Synopsis: The fifth installment in the Throne of Glass series. You can find out what the first book in the series is about by clicking here.
What I Thought: First let me address the absolutely ridiculous amount of time it took me to read this damn book! I hit the biggest reading slump of all time the last couple months of the year and I just could not read. I tried my hardest to get through this quickly, but it just didn't happen and you know what that is perfectly okay! Now on to my thoughts of this AMAZING book! I do recognize that this book has it's issues. However, I am complete trash or this series. This is the first book that I actually liked Manon's character in. She really took a turn for me in this book. Also, the relationships in this…..all three of them! I am so for each and every one of them. Aelin and Rowan….
If you have read this you will understand just how accurate this GIF actually is. I don't ever post spoilers in my  reviews so I can't say too much more about this book without giving things away. I will say that I am a major fan of Aelin and Lysandras friendship. They are a pair to be reckoned with that's for sure. I am so ready for the final book in this series, but at the same time this will be our first Sarah J Maas finale and I am so scared for all my babies. Please don't kill them!!!! If you haven't dived in to this series yet you really need to! It's so worth it.