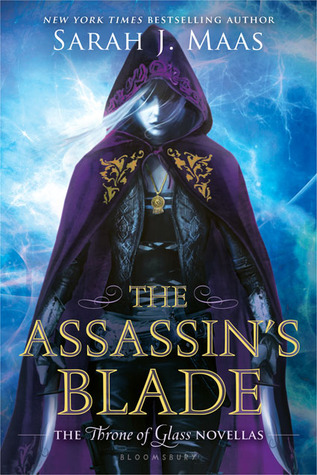 Date Published: March 4, 2014
Published By: Bloomsbury Children's
Pages: 448
Dates Read: 9/11/16-9/28/16
Edition Read: paperback
Rating: 
Goodreads Synopsis: Contains all five novellas.
Celaena Sardothien is Adarlan's most feared assassin. As part of the Assassin's Guild, her allegiance is to her master, Arobynn Hamel, yet Celaena listens to no one and trusts only her fellow killer-for-hire, Sam. In these action-packed novellas – together in one edition for the first time – Celaena embarks on five daring missions. They take her from remote islands to hostile deserts, where she fights to liberate slaves and seeks to avenge the tyrannous. But she is acting against Arobynn's orders and could suffer an unimaginable punishment for such treachery. Will Celaena ever be truly free? Explore the dark underworld of this kick-ass heroine to find out.
My Thoughts: The Assassin and the Pirate Lord- 4 stars
The Assassin and the Healer- 3 stars
The Assassin and the Desert- 4 stars
The Assassin and the Underworld- 5 stars
The Assassin and the Empire- 3 stars
Overall, I really enjoyed these novellas. I think that The Assassin and the Empire was my least favorite. The Assassin and the Underworld was definitely was my favorite of the novellas for sure. It was interesting to get to see Celaenas live before the events of Throne of Glass and the things that happened that lead up to that book and how she got where she was I do feel like the most important story was the last one and sadly that was my least favorite in the bunch. I found myself skim reading most of the time and not really caring about what was going on which doesn't make a ton of sense considering that's the story that we find out what happened that landed her in Endovier in the first place and I feel like that's the one where we actually glean the most backstory from. However, all of the stories point to Clenaenas stances on things and the person she is in the main books. I can now finally move on to book four, Queen of Shadows, which excites me tremendously. If you have read any of this series, more specifically this bindup, let me know which story was your favorite!