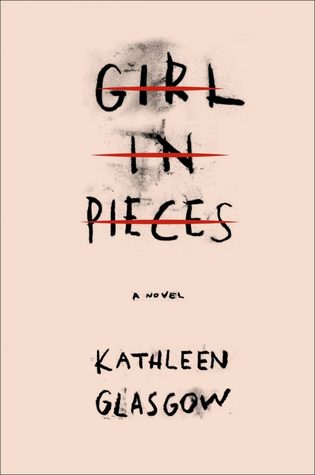 Date Published: August 30, 2016
Published By: Delacorte Press
Pages: 416
Edition Read: e-arc
Dates Read: 8/18-8/19/16
Rating: 
Goodreads Synopsis: Charlotte Davis is in pieces. At seventeen she's already lost more than most people lose in a lifetime. But she's learned how to forget. The broken glass washes away the sorrow until there is nothing but calm. You don't have to think about your father and the river. Your best friend, who is gone forever. Or your mother, who has nothing left to give you.
   Every new scar hardens Charlie's heart just a little more, yet it still hurts so much. It hurts enough to not care anymore, which is sometimes what has to happen before you can find your way back from the edge.
  A deeply moving portrait of a teenage girl on the verge of losing herself and the journey she must take to survive in her own skin, Kathleen Glasgow's debut is heartbreakingly real and unflinchingly honest. It's a story you won't be able to look away from.
My Thoughts: This was one of the books I was most looking forward to this year and I was lucky enough to get an early copy to review through Netgalley.  I was not let down at all. This is one of the best mental health books I have read in a long time. The entire time I was in the main characters head and I felt like I was going through everything with her. The way that this was written was so interesting to me. It wasn't broken up into normal chapters which was a nice change. Kathleen's writing was incredible and I highly recommend this book if your looking for something that accurately displays a mental disorder.