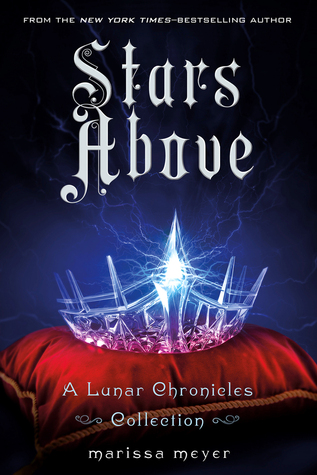 Date Published: February 2, 2016
Published By: Feiwel & Friends
Pages: 369
Edition Read: Hardcover
Dates Read: 3/24/16-3/28/16
Overall Rating: 
Goodreads Synopsis: The enchantment continues….
The universe of the Lunar Chronicles holds stories—and secrets—that are wondrous, vicious, and romantic. How did Cinder first arrive in New Beijing? How did the brooding soldier Wolf transform from young man to killer? When did Princess Winter and the palace guard Jacin realize their destinies?
With nine stories—five of which have never before been published—and an exclusive never-before-seen excerpt from Marissa Meyer's upcoming novel, Heartless, about the Queen of Hearts from Alice in Wonderland, Stars Above is essential for fans of the bestselling and beloved Lunar Chronicles.
My Thoughts: It was so nice to be back in the world of the Lunar Chronicles and getting to see my favorite characters again. My ratings for the individual stories are as follows:
The Keeper- 4 stars
Glitches – 3.5 stars (reread)
The Queens Army – 4 stars
Carswell's Guide to Being Lucky- 3 stars
After Sunshine Passes By- 3.5 stars
The Princess and the Guard- 4 stars
The Little Android- 4 stars
The Mechanic- 3 stars
Something Old, Something New- 5 stars
Something Old, Something New was my favorite out of the bunch. It was the epilogue to Winter and I have to admit, I got a little teary eyed reading it. I enjoyed all of the stories and recommend this if you have read the Lunar Chronicles.