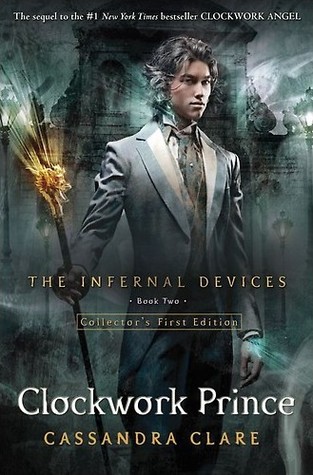 Date Read: 2/7-2/23                    Date Read: 2/23-3/4                  Date Read: 3/4-3/8
Rating:
                          Rating: 
                    Rating: 
Goodreads Synopsis for Clockwork Angel: In a time when Shadowhunters are barely winning the fight against the forces of darkness, one battle will change the course of history forever. Welcome to the Infernal Devices trilogy, a stunning and dangerous prequel to the New York Timesbestselling Mortal Instruments series.
The year is 1878. Tessa Gray descends into London's dark supernatural underworld in search of her missing brother. She soon discovers that her only allies are the demon-slaying Shadowhunters—including Will and Jem, the mysterious boys she is attracted to. Soon they find themselves up against the Pandemonium Club, a secret organization of vampires, demons, warlocks, and humans. Equipped with a magical army of unstoppable clockwork creatures, the Club is out to rule the British Empire, and only Tessa and her allies can stop them…
My Thoughts: I understand now why everyone RAVES about this trilogy and how they like it better than The Mortal Instruments series. This trilogy is FANTASTIC and I have been obsessed since finishing Clockwork Princess at 1 am this morning.
The characters were all so great and well developed. You got to see the growth in every single one of the characters throughout the trilogy and I loved that. I really enjoyed the friendship relationships in the story as well. Yes, there was a love triangle and that relationship but it wasn't always a main focus. You really got to see Will and Jem's friendship and just how strong it was. I have to say I think one of my favorite characters was Sophie. My least favorite character, other than the bad guys obviously, had to be Jessamine. I found her to be annoying and ungrateful but in the end I ended up feeling bad for her (if you've read this then you know why).
The world that Cassandra Clare has created in this trilogy is one of my favorites. She has a way of making you feel like your in these situations right along side the characters and you grow so attached to them and just want things to go good for them. I love the time period this book was set in and the fact that Tessa loves to read is just a cherry on top for me. If I had one thing to say that I wish was a little different is that we got a little more of Mortmain's story but other than that I thought it was great.
My favorite of the series has to be Clockwork Princess even though my reaction during a lot of the scenes while reading it were basically this:
and then this
and then right back to this
Basically I was just a big human sized ball of feelings while reading this and I LOVED every second of it. I definitely have plans to reread this in the future. It is one of my all time favorite trilogies now and I just can't rave about it enough. If you haven't yet read this trilogy  you really ought to. I promise you won't regret it. Not only is the story itself absolutely fantastic but the writing is amazing as well.