This weeks book is:
The First Time She Drowned by Kerry Kletter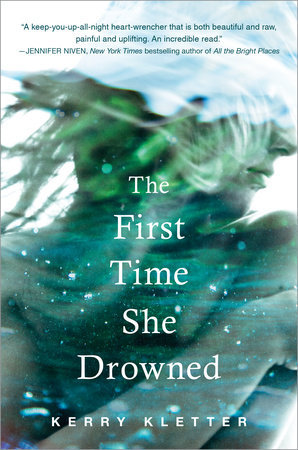 Expected Publication: March 15, 2016
Goodreads Synopsis: The beautiful struggle of a girl desperate for the one relationship that has caused her the most pain

Cassie O'Malley has spent the past two and a half years in a mental institution—dumped there by her mother, against her will. Now, at 18, Cassie emancipates herself, determined to start over. She attends college, forms new friendships, and even attempts to start fresh with her mother. But before long, their unhealthy relationship threatens to pull Cassie under once again. As Cassie struggles to reclaim her life, childhood memories persist and confuse, and Cassie must consider whose version of history is real, and more important, whose life she must save.
A bold, literary story about the fragile complexities of mothers and daughters and learning to love oneself, The First Time She Drowned reminds us that we must dive deep into our pasts if we are ever to move forward.
First of all, this cover is insanely gorgeous. Am I right? On top of that the story itself just sounds like it will be a really good and it seems like it has the potential to send my feels all over the place while I am reading it. Really looking forward to this one.