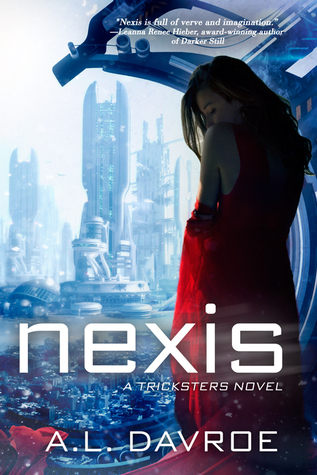 Date Published: December 1, 2015
Dates Read: 12/28/15-1-1/19/16
Rating: 
Goodreads Synopsis: In the domed city of Evanescence, appearance is everything. A Natural Born amongst genetically-altered Aristocrats, all Ella ever wanted was to be like everyone else. Augmented, sparkling, and perfect. Then…the crash. Devastated by her father's death and struggling with her new physical limitations, Ella is terrified to learn she is not just alone, but little more than a prisoner.
Her only escape is to lose herself in Nexis, the hugely popular virtual reality game her father created. In Nexis she meets Guster, a senior player who guides Ella through the strange and compelling new world she now inhabits. He offers Ella guidance, friendship…and something more. Something that allows her to forget about the "real" world, and makes her feel whole again.
But Nexis isn't quite the game everyone thinks it is.
And it's been waiting for Ella.
My Thoughts: This was one of my anticipated releases for last year and it didn't disappoint. I thoroughly enjoyed this book, but I have to say I liked the second half more than the first. So much happens in the last few chapters and a ton of information gets revealed.  I liked our main character, Ella. I also really enjoyed Gus, who I guess could be considered a main character as well. I liked the world inside Nexis and it was nice to get to learn about it and experience it the way Ella did. A few things happened at the end that I honestly did not see coming. Things leave off with you being a little confused about some things, and thankfully there isn't a real cliffhanger. You are just left wanting the story to continue and see what happens next. I would for sure recommend this to you guys to chack out!
Favorite quote from the book:
"From what I can see of humans, you often destroy wonderful things in the pursuit of something that your delusions make you think is more wonderful." – Meems