"Waiting On" Wednesday is a weekly event, hosted by Breaking The Spine, that spotlights upcoming releases that we're excited about and anticipating the release of! I decided to take part in the series here on my blog!
This weeks book is:
Winter by Marissa Meyer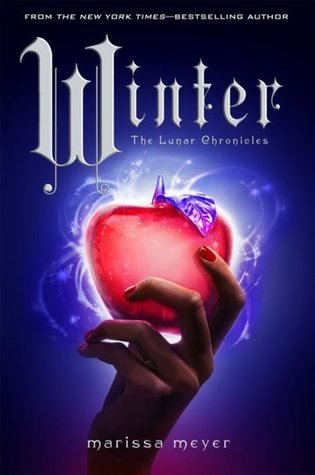 Expected Publication: November 10
Goodreads Synopsis: Princess Winter is admired by the Lunar people for her grace and kindness, and despite the scars that mar her face, her beauty is said to be even more breathtaking than that of her stepmother, Queen Levana.
Winter despises her stepmother, and knows Levana won't approve of her feelings for her childhood friend–the handsome palace guard, Jacin. But Winter isn't as weak as Levana believes her to be and she's been undermining her stepmother's wishes for years. Together with the cyborg mechanic, Cinder, and her allies, Winter might even have the power to launch a revolution and win a war that's been raging for far too long.
Can Cinder, Scarlet, Cress, and Winter defeat Levana and find their happily ever afters?
I am so beyond ready for this book to be out! Like, I need it in my hands right now. Okay, first things first if you haven't read this series what are you doing with your life?? Go out and buy the first book Cinder and fall in love with the series like I did so we can talk about how amazing it is together! You do need to read the first three books before you can read this one because the main characters from those three books will be in this one and things will kind of be coming together in an epic finale in Winter. If you don't know, the Lunar Chronicles is a four book series of fairytale retellings. Cinder is a retelling of Cinderella, Scarlet is a retelling of Little Red Riding Hood, Cress is a retelling of Rapunzel, and Winter is a retelling of Snow White. There is a fifth book called Fairest which is about Queen Levana who is the main enemy in all of the books. I can't recommend this series enough and I am so excited to find out how things end in this book. I hope it's everything I am hoping it will be!