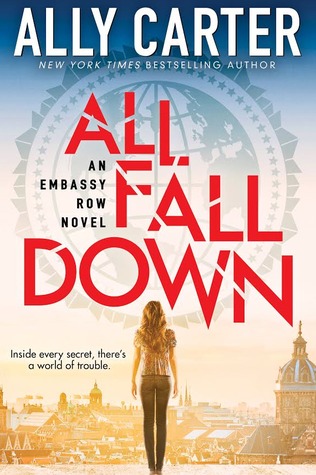 Date Published: January 20, 2015
Date Read: 4/22/15
Rating: 4 stars
Synopsis: This exciting new series from NEW YORK TIMES bestselling author Ally Carter focuses on Grace, who can best be described as a daredevil, an Army brat, and a rebel. She is also the only granddaughter of perhaps the most powerful ambassador in the world, and Grace has spent every summer of her childhood running across the roofs of Embassy Row.
Now, at age sixteen, she's come back to stay–in order to solve the mystery of her mother's death. In the process, she uncovers an international conspiracy of unsettling proportions, and must choose her friends and watch her foes carefully if she and the world are to be saved.
My Thoughts: I love Ally Carter's Heist Society series so I had to read this one when it came out as well. It totally lived up to my expectations. I read this book in one sitting. It was just so easy to fly through. There was a pretty big surprise at the end of the book that I really did not see coming and now I am so intrigued to see what happens in the second book. Sadly, I have a whole year to wait for that! I would recommend picking up something by Ally Carter if you haven't read her books yet. Her writing is so easy to read and the stories are great!