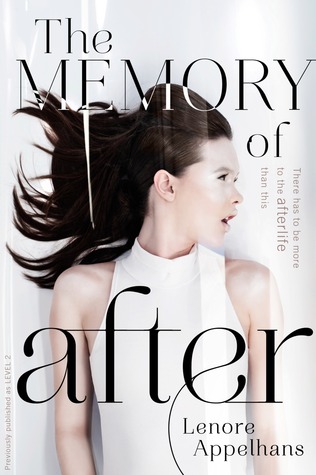 Date Published: September 3, 2013
Dates Read: 3/23/15-3/25/15
Rating: 4 stars
Synopsis: Ever since she was killed in a car accident just before her eighteenth birthday, Felicia Ward has been trapped in the afterlife. She spends the endless hours uploading and re-watching memories from her time on Earth, missing the people she left behind – especially her boyfriend, Neil.
That all changes when Julian, a dangerously charming acquaintance from Felicia's life, appears in her memory chamber. He offers her a chance to escape: If Felicia joins the rebellion to overthrow the Morati, the angels in charge of Level 2, she'll be free to move on. Wary of trusting Julian, Felicia only agrees when he promises her the chance to be with Neil again. But there's more to this battle than anyone, even Julian, knows, and Felicia finds herself at the center of an eternal struggle between good and evil.
My Thoughts: This book was previously published under the title of Level 2. I rather enjoyed this book. It was a little confusing at times trying to figure everything out as the story went on. I did not see the huge plot twist that happens coming AT ALL. I was already looking forward to reading the sequel but once that big twist happened I wanted to read the next one even more. There were a few things I had a couple problems with. I feel like there was adequate world building. The characters weren't my favorite characters ever but they were pretty good. I loved the main girl Felicia though. I thought she was great. I am really looking forward to reading the next book and seeing what happens after the way things ended in this book.