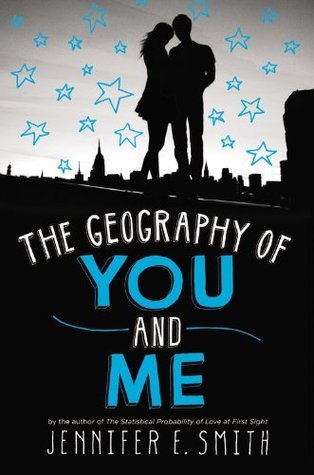 Date Published: April 15, 2014
Dates Read: 12/21/14 to 12/27/14
Rating: 4 stars
Synopsis: Lucy and Owen meet somewhere between the tenth and eleventh floors of a New York City apartment building, on an elevator rendered useless by a citywide blackout. After they're rescued, they spend a single night together, wandering the darkened streets and marveling at the rare appearance of stars above Manhattan. But once the power is restored, so is reality. Lucy soon moves to Edinburgh with her parents, while Owen heads out west with his father.
Lucy and Owen's relationship plays out across the globe as they stay in touch through postcards, occasional e-mails, and — finally — a reunion in the city where they first met.
A carefully charted map of a long-distance relationship, Jennifer E. Smith's new novel shows that the center of the world isn't necessarily a place. It can be a person, too.
My Thoughts: I really enjoyed this book. The writing style flowed so well and made it so easy to read. The two main characters were fantastic, Lucy and Owen. I liked that it was told from both of their points of view and that you could actually tell a difference when the pov's switched. The postcard idea was super cute! I knew within the first couple of pages that I was going to really like this book and I was right. It was such a different take on the "typical" young adult love story and I am so thankful for that. I'm also happy that there was NO instalove in this book because I hate when that happens and it usually lessens my rating of a book. This one however was more of a "normal" type situation. I would highly recommend this if you are looking for a good contemporary read.