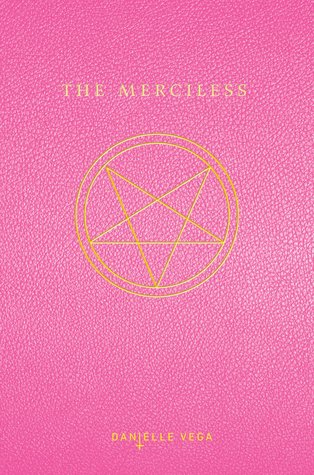 Rating: 5 STARS!!!!
Read on: 7/2/14
Synopsis: Forgive us, Father, for we have sinned
Brooklyn Stevens sits in a pool of her own blood, tied up and gagged. No one outside of these dank basement walls knows she's here. No one can hear her scream.
Sofia Flores knows she shouldn't have gotten involved. When she befriended Riley, Grace, and Alexis on her first day at school, she admired them, with their perfect hair and their good-girl ways. They said they wanted to save Brooklyn. They wanted to help her. Sofia didn't realize they believed Brooklyn was possessed.
Now, Riley and the girls are performing an exorcism on Brooklyn—but their idea of an exorcism is closer to torture than salvation. All Sofia wants is to get out of this house. But there is no way out. Sofia can't go against the other girls . . . unless she wants to be next. . . .
In this chilling debut, Danielle Vega delivers blood-curdling suspense and terror on every page. By the shockingly twisted end, readers will be faced with the most haunting question of all: Is there evil in all of us?
My Thoughts: This book was a page turner! I could not put this book down, and if it wasn't for me having to work this afternoon then I would have had this book done in just a few hours. It was so suspenseful and creepy, but at the same time I couldn't tear my eyes away from the page. The book starts out a little like Mean Girls where the popular group of girls takes in the new girl and all of a sudden wants to be friends with her, but once you get about 1/4 of the way into it it starts turning more and more creepy and then you just get hit with all this insane shit that starts happening, and your just like oh my god what is going to happen next!!!?? I really liked Sofias character, but I despised Riley, she was just ruthless, but the story wouldn't be what it is without her. This wasn't as scary to me as everyone is saying it is, but that is only because I don't scare easily at all. However, I will say that this book is for mature audiences only, and it even state that on the first page of the book when you open it. I wouldn't recommend reading this if your under the age of 17. The things that happen in this book are absolutely crazy, and I honestly think it would make an amazing movie! The way the book ended I really hope that there is a chance at a second book. There wasn't a cliffhanger per say, but it was left open in a way that leaves the possibility for a sequel there. I just can't get over how creepy this book was.  I would highly recommend this book to anyone over the age of 17!!!